Minnie Mouse and my Pumpkin Party is featured on Tip Junkie today. How exciting! Go over there and see all the other cute Halloween ideas.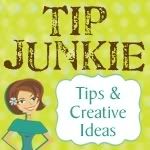 If you haven't heard, I'm giving out Mommy Awards!! This award is for a mom who goes above and beyond her normal mommy duties and deserving of a big shout out! I've even added a new page just for these awesome moms:-)
Today, I'm giving out two awards to two gorgeous moms!
Angie Arthur
Angie is the mother to four precious kids, a Stampin' Up Demonstrator and an up and coming photographer. Angie seems to always go about and beyond the norm. For one thing, she takes some awesome photos of her kids and actually uploads them off her computer, posts and prints them! I don't know how she can keep up with pictures of four kids. I only have two and my poor second child hardly has any photos printed out of her! She's so good about getting the everyday memory shots.
Not only is Angie an awesome mom, but she's also just a downright awesome person! I've gotten to know Angie via the internet and it's like we've known each other forever. I wanted to make sure you all got to know this wonderful lady too. Visit her blog to laugh at her stories and see her beautiful photos.
The Arthur Clan
Angela @ The Painted House
Okay folks, this mommy of three just blows my mind! She's an amazing artist and so crafty with her kids. And did I mention she is hilarious too? A mommy after my own heart:-) She just designed a gorgeous playroom in her basement. It's even got a little play house room. Her kids are so lucky! Angela paints pretty much anything… murals, pretend barns for her kid's birthday parties, canvas banners, and beautiful works of art on canvas. Not only does she paint, but also maintains a lovely cooking blog while also making us chuckle on her personal blog.
New here?
If so, thanks for stopping by!
I hope to inspire creativity with my blog. I like to showcase crafts, decorating and party ideas. I also provide FREE downloads of my original art. Life to me is about family, creativity and having fun!
Want to see what fun I've been having lately? Read about my pumpkin party!
•
Click below to subscribe to Living Locurto.
Originally published on October 27, 2008. Last Updated on May 15, 2021 by Amy Locurto