The day has come that I have to choose the winners of the Halloween Blog Party! I spent hours going through each one of your fantastic blogs and Flickr pages. This was really hard because there were so many spooktacular entries!!
Thanks to everyone who joined in on the fun! If you missed the party, please go to my Halloween Party page and visit these creative blogs! The good thing is that all of you were entered to win a hat by LDesigns. Scroll down to see if you won. Good luck!
Your Halloween spirit is amazing! I wanted to feature everyone, but I would have been up all night. Sorry, I need my beauty sleep to be ready for trick or treat tonight. Here are a few of the Bootiful entries!!
Homemade Costumes

Jaimee makes the cutest costumes for her kids! Here are a few of my favorites…
Jack Jack and Syndrome from the Incredibles. So funny! LOL!!
We are That Family made Elvis and a poodle skirt. She has directions on her site. I love their poses here!
Occasional Genius made her son into a Stick Figure! So creative!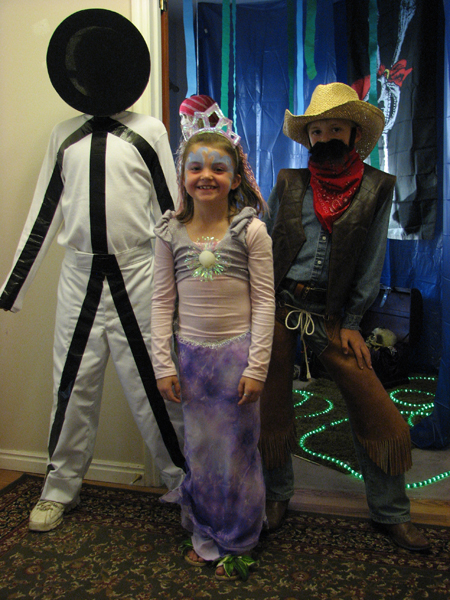 Jenna Z. was an adorable Jack in the Box back in the 80's. Look how excited she is!! Cute!
!
Alexa's Masterpiece Costume. She actually painted this. Wow! I love her expression. Priceless!
Min's family made a terrific Scooby Gang!
Melissa J. Lee knitted this adorable pirate costume. Look at the little parrot on the shoulder!
Amy's Strawberry & Whipped Cream is adorable!
Kendra @ My Insanity knitted her baby's hat & dressed as a gardener with her prized peony.
I'm a sucker for cute animals in costume! Check out these adorable witches…
Beth's cat Squishy
KayVonne's dog Roxy
Sandra Everston wrote A Halloween Tail starring her dog Juliette. You HAVE to go read this story!!
Party Ideas
Deb at Ribbonwood Cottage sets the prettiest tables! I want to come for dinner.
I love Heather's Pin the Fangs on the Vampire game! Download the template from her site and make your own.
Bella made the cutest personalized Trick or Treat party favor buckets.
KayVonne made some yummy Cheesecake Pops. Go to her blog for directions for this special treat.
I borrowed Amy's Ghosts on a Stick idea for my party. Hers turned out much better than mine:-)
Kristi's Witches Brew is to die for!
Tidymom's Candy Corn Cookies – One side is dipped in white chocolate, the other in milk chocolate. Yum!
Mommy Wizdom says these Chocolate Chip Pumpkin Cookies are so good that everyone will want your recipe. Get ready to be famous!
Crafts
I want to be a witch for Halloween just so I can wear this awesome necklace by Melissa J. Lee.
Crafting with Cat Hair made Charlie Brown's costume and back of rocks! How cute is this?
Alexa (the queen of Halloween!) made this awesome Pumpkin Man Box & Googly Eye Frame. Go to her site to see all her amazing projects. She will inspire you!
Kendra @ My Insanity made these fantastic blocks & pumpkins.
Check out Kendra's Bat-fiul Party Invitation.
Robin @ Urban Debris made these wonderful Halloween blocks and has directions with images you can download for FREE! You know how I love those freebies.
Halloween Decor
I'm loving Angela @ Cottage Magpie's Halloween Idea Extravaganza!!! Wow!!! She is one talented lady.
Jenna Z. @ CorgiPants has a spooktacular living room.
Amanda's yard and witch are spooktacular!!!
Linda at Restyled Home has a wonderful Black Halloween Tree!
Cheryl has some bootiful Halloween decor. Look at her kitchen & hall table! So creative!
Halloween Photos
DJane created a cute photo with Photoshop Elements. She's just learning and I think did a great job!
Angie @ The Arthur Clan entered this great photo of pumpkins her husband and children carved.
Alexa had some fun in the Pumpkin Patch
This is an awesome shot that I wanted to show everyone. But, since you didn't take this yourself- sorry- you're not eligible for a prize:-) Tell your friend he rocks though!! Awesome shot!
Dot's festive jack-o-lantern.
What a sweet subject by Mommy Wizdom.
Just for kicks, I am featuring a few of my own photos…
I love the lighting here and my Jedi Knight in the background.
I'm excited that this little guy is featured on Tip Junkie! Check out my Photoshop Tutorial on how to make your photos fun.
And now for Our winners…
Best Original Costume goes to Alexa!
She was such a fantastic Mona Lisa!! This costume was just amazing. Visit her site to get directions on how to do this yourself. Way to go Queen of Halloween! I will miss your Terrorific Tuesdays:-(
Creepiest Decor is Angela's Halloween Shades!
I can't wait to make these next year. Lucky me, she has directions right here. I'm jealous that I didn't think of this one!! ha. Angela you rock!
Most Creative Party Idea goes to Heather!
This Dracula game is adorable. Don't forget to go to her site to get the template and make this yourself. Great job Heather!
Most BOOtiful Halloween Design is Kendra's Batty Invitations.
Simple and fun, my two favorite combos! Visit her site for directions. Super creative Kendra!
Most Bewitching Halloween Photo is Angie's A Jack-O-Lantern Night
I love the way you made a collage. Very festive. Great job!
Winners, send your address to livinglocurto@me.com and I will mail you a Halloween surprise!!
Man, that was hard to pick with so many wonderful entries!!! But wait! There is still one more prize. I will now do the Random Sequence Generator with the amount of entries. The first number to appear wins the LDesign ball cap.
Jenna Z. @ CorgiPants is our winner. Congrats!
Thanks for coming to the party!
Happy Halloween!!
Now go enter my giveaway. Winner will be chosen this Saturday morning.
•
Click below to subscribe to Living Locurto.
Originally published on October 31, 2008. Last Updated on May 15, 2021 by Amy Locurto